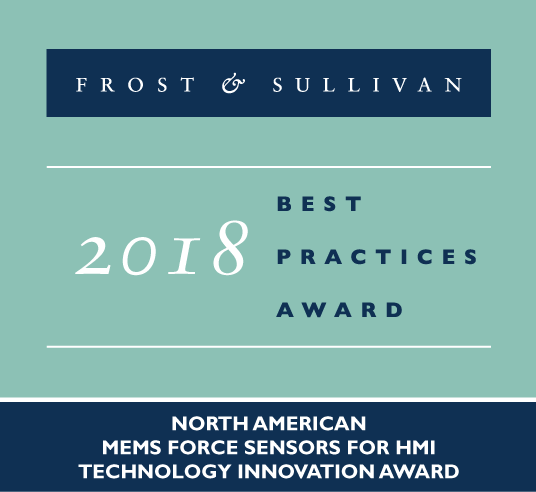 MOUNTAIN VIEW, CALIFORNIA – August 13, 2018 – NextInput, Inc., the leader in MEMS-based force sensing solutions, announced today it has earned Frost & Sullivan's 2018 Technology Innovation Award in MEMS Force Sensors for Human-Machine Interfaces in North America.
This Award is independently evaluated on two key factors – Technology Attributes and Future Business Value. Frost and Sullivan analysts follow a 10-step process to evaluate Award candidates based on select best practice criteria.
"Frost & Sullivan applauds NextInput for differentiating itself as a company by bringing innovative technology to market that can touch billions of lives," says Frost and Sullivan TechVision analyst team.
"We are pleased and honored with this recognition and attribute it to our culture of innovation and fast execution", says Ali Foughi, NextInput CEO and Founder.
About Frost & Sullivan
Frost & Sullivan, the Growth Partnership Company, enables clients to accelerate growth and achieve best-in-class positions in growth, innovation and leadership. The company leverages more than 50 years of experience in partnering with Global 1000 companies, emerging businesses, and the investment community from 45 offices on six continents.
About NextInput

NextInput, Inc., headquartered in the Silicon Valley, provides MEMS-based force sensing solutions for the Consumer, Automotive, IoT, Medical, Robotics and Industrial markets.
©2018 NextInput, Inc. All rights reserved. ForceTouch™ and ForceGauge™
Source: NextInput, Inc.
# # #
Contact:
Ali Foughi, CEO & Founder
NextInput, Inc.
980 Linda Vista Avenue, Mountain View, CA 94043
[email protected]